World records continue to amaze people with their strange and extraordinary aspects. Guinness World Records is considered the official worldwide recognized center for any world record attempt. This center is also an organization that measures and documents the incredible actions of people. We've listed the 21 weirdest world records for you. Here are the weirdest world records you've probably never heard of…
1. 98% of the body of a Mexican family is covered with hair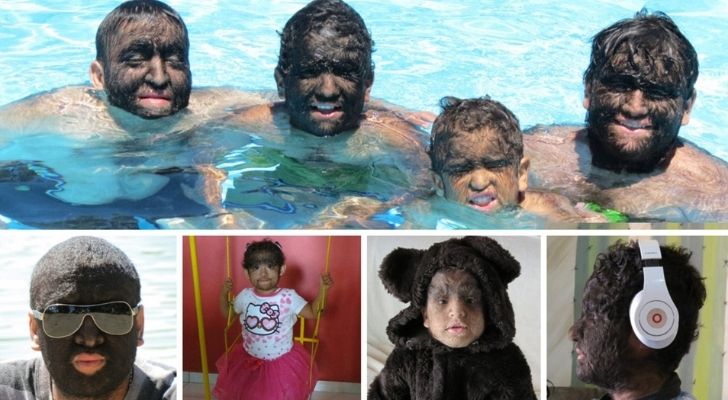 Let's face it, some people have more hair than others, due to genetic inheritance. But we must say that there is more than genetic inheritance in this family living in Mexico. The Gomez family entered the Guinness World Record as the furthest family in the world in 2000. We must say that the four members of the family have about 98% of their bodies covered with hair. Speaking of other family members, the family has a total of 19 members spanning five generations who suffer from the rare condition of Congenital Generalized Hypertrichosis (CGH).
2. For David Rush, being able to fit lit candles in his mouth is child's play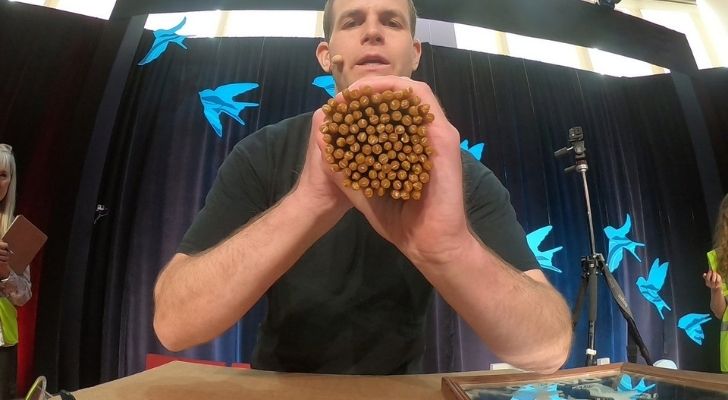 When lighting a candle, your first thought is probably not to swallow it in one bite. But for a man named David Rush, putting a lit candle in his mouth is an incredible pleasure. Rush, who managed to burn 100 candles at the same time on April 20, 2019, managed to enter the list of records.
3. What if we told you that the longest fingernail of all time is over six feet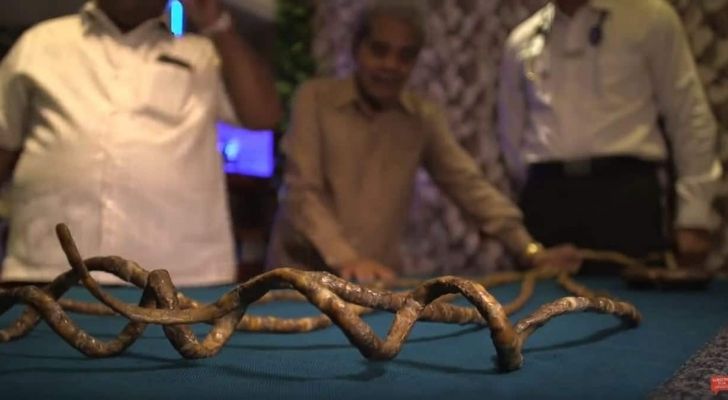 There is more than one record for the longest nails in the world. However, some records measure the longest nails for both hands, and some for a single hand. There is only one record in the list of records for the longest single hand nail. Shridhar Chillal is proud to have the longest nail in the world with a total nail length of 6 ft 4 in (197.8 cm). We would like to remind you that this interesting work was exhibited at Ripley's Believe It or Not, New York.
4. Attention, this sound can be deafening! Owner of the loudest female burp; Elisa Cagnoni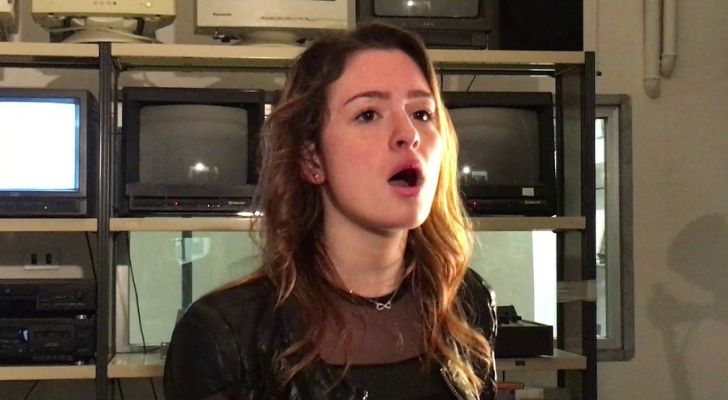 Yes, we agree, burping is a natural human action. Moreover, it can even be said that it is sometimes considered a sign of good food. On June 16, 2009, Elisa Cagnoni became the loudest burp woman in the world with a total of 107.0 dB. This sound was just like hearing a loud noise from 1 meter away.
5. Malaysian cat "Bibi" can balance ten dice in her paw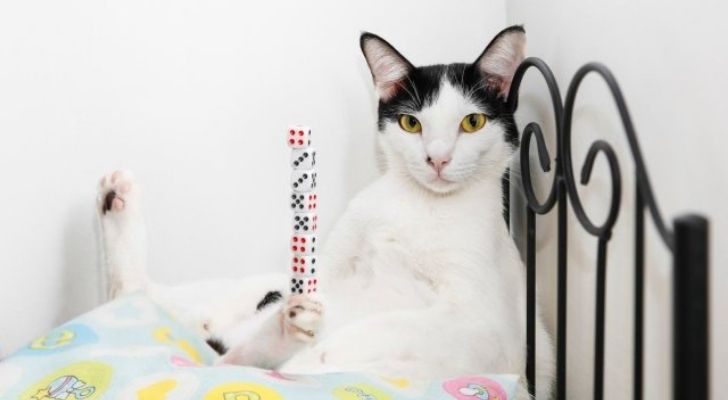 Bibi is a highly skilled shorthaired cat that manages to balance 10 dice in her paws. This cool cat lives in Malaysia with its owner, Siew Lianchui. This cat, which managed to hold 10 dice without moving it in its paws on June 18, 2017, is now a record holder.
6. Record milk squirt from the eye socket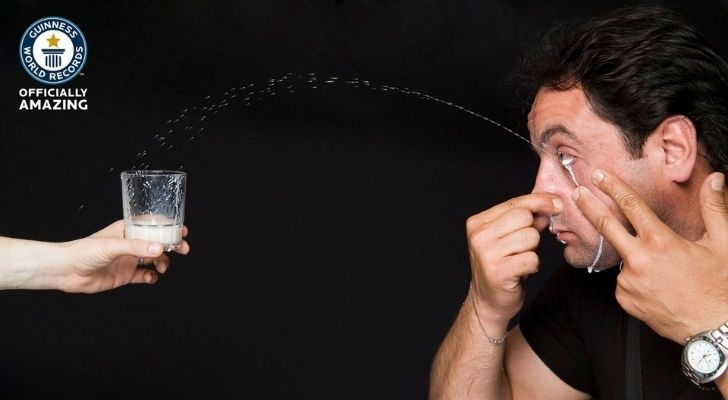 Did you ever think that you could enter the record list by squirting milk from your eyes! On September 1, 2004, İlker Yılmaz did exactly that and became the champion. Yılmaz managed to get his name written in the world record book by squirting milk from his eye socket to a serious distance of 279.5 cm at the Armada Hotel in Istanbul.
7. Imagine 66 people on a surfboard!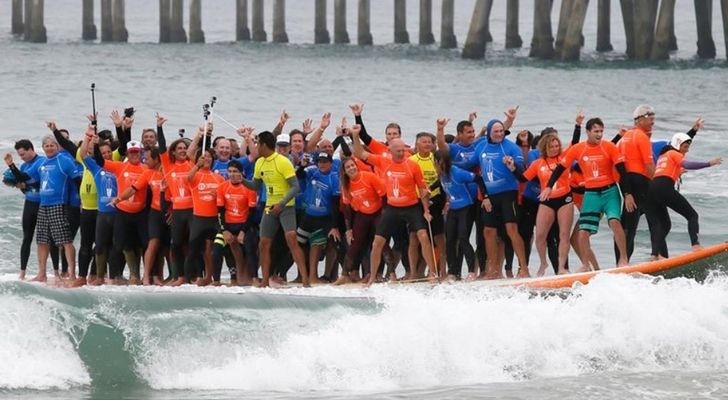 Surfing is an enjoyable sport where adrenalin seekers aim to reach the biggest wave by rowing in the ocean. But on June 20, 2015, 66 people moved to set a new world record in Huntington Beach, California. "How can so many people fit on one board?" You may be wondering. Let's explain right away. Yes, a custom-built 42 ft (12.8 meters) long board was designed for this record, and 66 managed to stand on it, breaking the record.
8. Anne Woods holds the world record with her quirky talent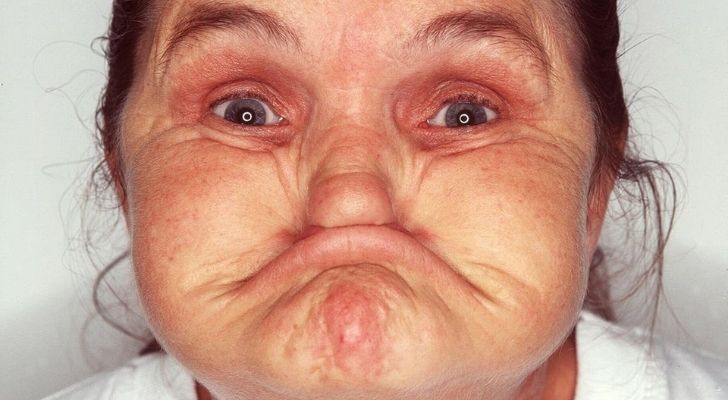 Gurning is an English term for stretching or pulling the face in a certain way. The United Kingdom, on the other hand, hosts the gurning world championships. The Egremont Crab Fair, held in Cumbria, England, has been held every year since 1267. This tradition makes it one of the oldest fairs in the world. Anne Woods holds the Guinness World Record as the woman who earns the most at the Egremont Crab Fair. Let us remind you that he won a total of 27 competitions in the gurning branch between 1977 and 2010. Woods was awarded the Guinness World Record on September 18, 2010.
9. Gary Turner has the most supple skin in the world!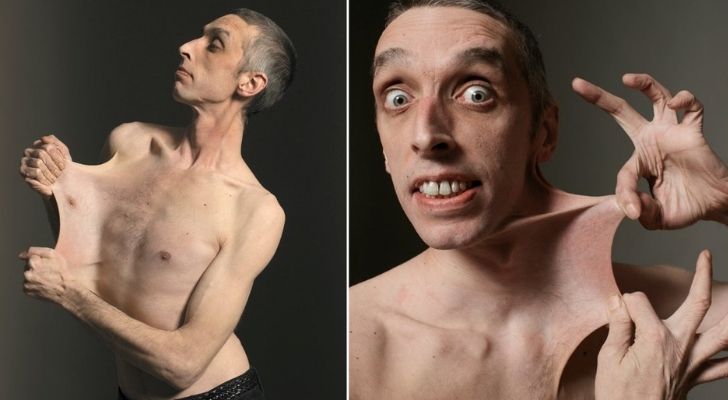 An Englishman named Garry Turner has the most supple skin in the world due to a condition called Ehlers-Danlos Syndrome. This feature earned him a world record. Ehlers-Danlos Syndrome is caused by a problem in the tissue that connects the skin, ligaments, and organs. Due to the collagen change in the skin, the skin can stretch incredibly. Due to this situation, Turner is able to stretch his skin 15.8 cm. He became the owner of this record on October 29, 1999.
10. The longest metal ever to pass through a human nose, about 363 cm long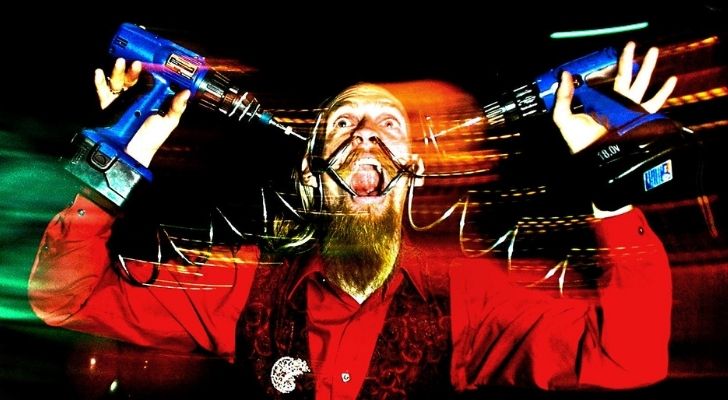 On March 31, 2012, show performer Andrew Stanton, based in Las Vegas, set a world record. The record was about the longest metal coil going through the nose and coming out of the mouth. Stanton managed to get a piece of metal measuring 11′ 10″ (363 cm) through his nose. The record was recorded on the set of "Lo Show Dei Record" in Rome, Italy.
11. Would you like to have a slice of the world's largest pizza?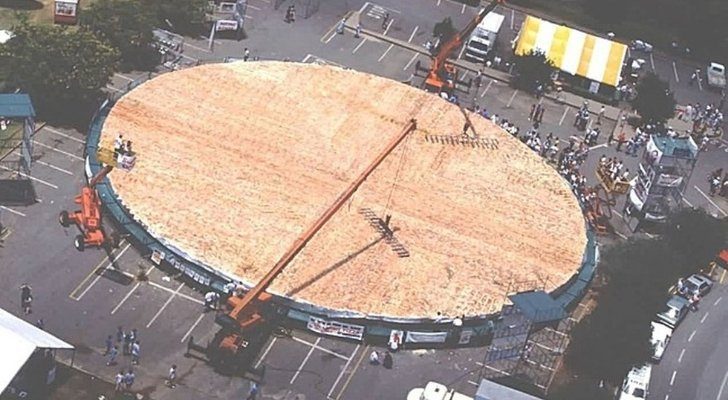 I guess there is no one among us who doesn't like pizza! Imagine creating giant versions of your favorite foods, wouldn't it be amazing! Yes, there have been many world record attempts on giant food to date. But none were as remarkable as the world's largest pizza. Prepared in Italy on December 13, 2012, this giant pizza measured exactly 13,580.28 ft² (1,261.65 m²). This incredible pizza was named "Ottavia", after the first Roman Emperor Octavian Augustus. Pizza is made in Fiera Roma by Italian pizza masters: Dovilio Nardi, Andrea Mannocchi, Marco Nardi, Matteo Nardi and Matteo Giannotte. We would like to remind you that this giant pizza, which has the title of the largest pizza in the world, is completely gluten-free.
12. Kim Goodman is able to protrude her eyeballs 12mm from their sockets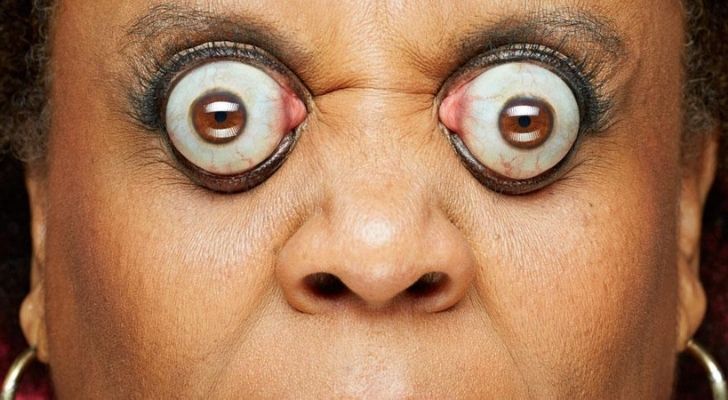 He knows that we can hear very interesting things when it comes to world records. But this is just incredible! Kim Goodman, who lives in the USA, has the ability to stick her eyes out as much as possible from her pupils. Goodman's discovery of this feature is based on a very interesting story. Goodman, who discovered that he could take his eyes out of his skull after being hit on the head with a hockey mask, manages to become a record holder with this interesting feature. "Proptosis" is a term for the ability to protrude the eyes from the head. On November 2, 2007, within the borders of Turkey, Goodman succeeded in removing his eyes 0.47 inches (12 mm) from their eye sockets and set a new world record. The recording was measured by an optometrist with the aid of an optometer a total of three times to obtain an average distance.
13. The longest kiss in the world was over 58 hours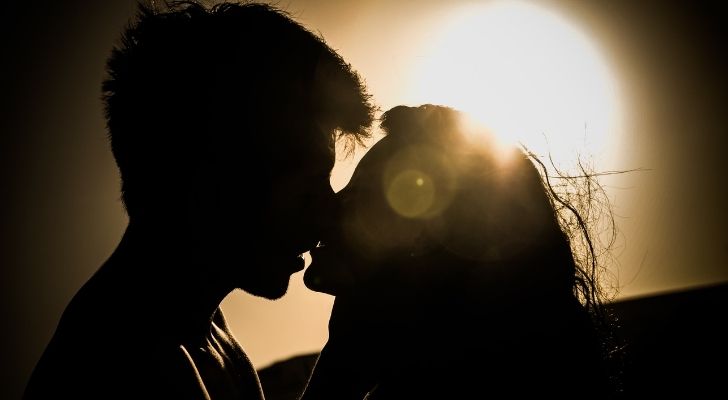 A couple who kissed for three days managed to set an interesting world record while renewing their relationship. The longest kiss in the world took place on February 14. This kiss, which took place in 2013, lasted exactly 58 hours 35 minutes 58 seconds. The record holders are Ekkachai Tiranarat and Laksana Tiranarat, who live in Thailand. Not only did the couple win a Guinness World Record with this record, the couple were presented with a cash prize and two diamond rings.
14. The largest object ever extracted from a human skull was a gigantic drill bit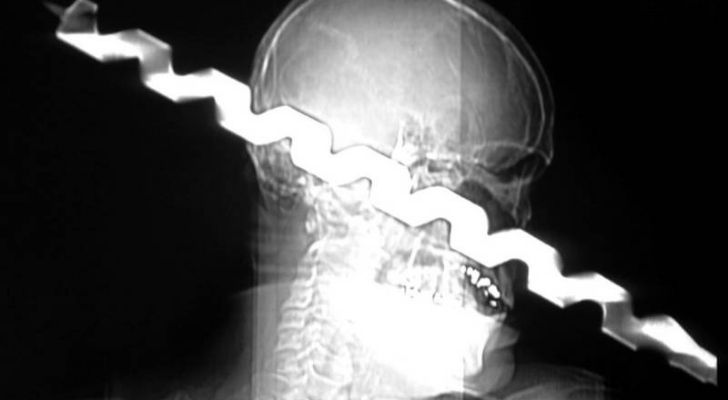 On August 15, 2003, a man named Ron Hunt was awarded a Guinness World Record for surviving a fatal accident. Hunt fell down the stairs while he was using a drill. The 18-inch (46 cm) long, still spinning drill bit hit Hunt in the head. The drill bit entered the unfortunate man's right eye and exited the skull just above his right ear. Hunt, who was taken to the Washoe Medical Center in Nevada, USA, faced a new reality in the hospital. The drill bit had bypassed his brain, and Hunt would have died if the spike had hit his brain.
15. Ruan Liangming wears a mantle covered with approximately 637,000 bees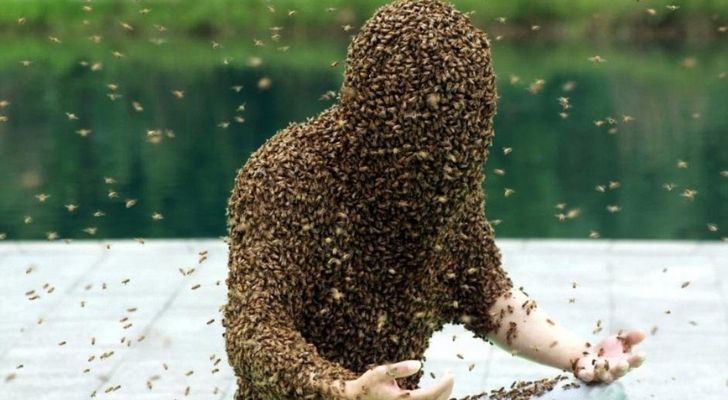 Ruan Liangming, who lives in China's Jiangxi Province, wore the world's largest bee mantle in recent years. An estimated 637,000 bees were above the record, including about 60 queens with a total weight of 63.7 kg. The record was recorded during the filming of both the CCTV-Guinness World Records Special and Lo Show Dei Record.
16. The tongue is the strongest muscle in the body, but isn't that a bit too much?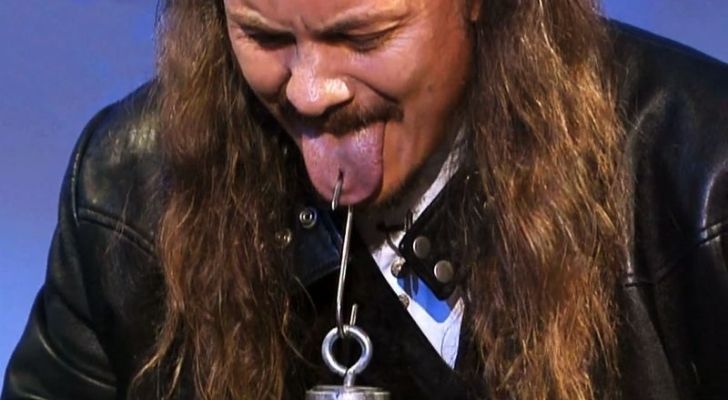 The tongue is said to be the strongest muscle in the body, but have you ever tested it? Thomas Blackthorne, living in England, succeeded in showing the power of his language to the whole world. The British man, who broke a wide-ranging world record, lifted a weight of around 12.5 kg with his tongue at El Show Olímpico in Mexico. However, this was not his first record attempt; Blackthorne had been aiming for this record since his first attempt in 2004.
17. Can a parrot open 35 cans of drink in 1 minute?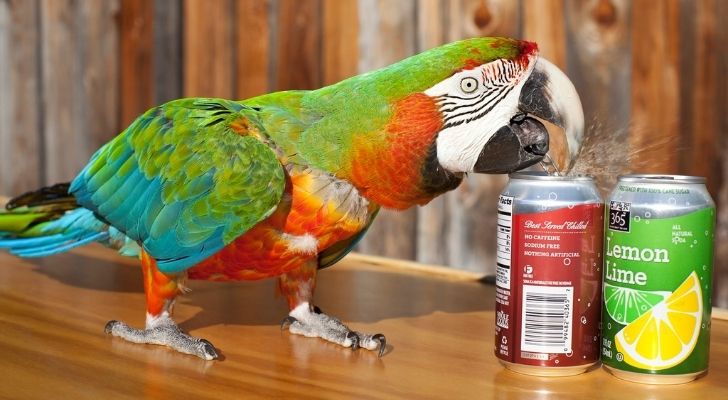 The animal world has an incredible energy. Zac the Macaw is a cute parrot who broke the Guinness World Record by opening 35 cans of beverage in one minute. The record was recorded on January 12, 2012 in San Jose, California, USA.
18. The fastest bathtub in the world can reach speeds of 186 km per hour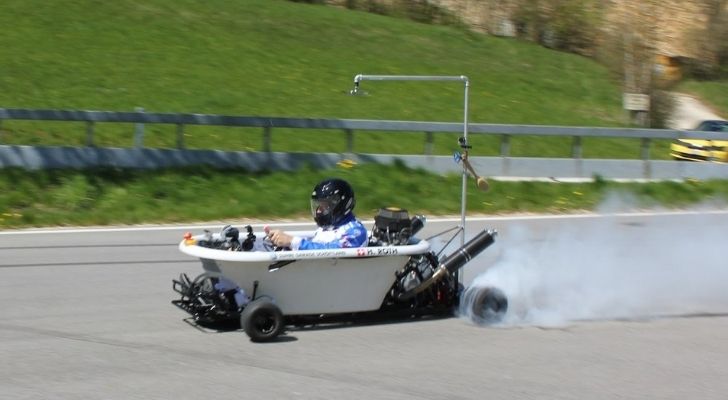 Bathtubs are designed to relax and purify after a busy day. However, we want to talk about a record that shows that it can be used for much more. Swiss engineer Hannes Roth decided that one day he wanted to turn his bathtub into a race car. Roth, who is also a racing driver, more or less guessed what it would cost. So he started modifying a tub to make a world record attempt. He spent exactly 300 hours on the modding process. After many test runs, Roth took the motorized tub to the Dynamic Test Center in Vauffelin, Switzerland, for the world record attempt. On May 6, 2016, this interesting tub achieved an average speed of 116.08 mph (186.82 km/h) and set a world record.
19. 412 people washing the dishes at the same time is also considered a record!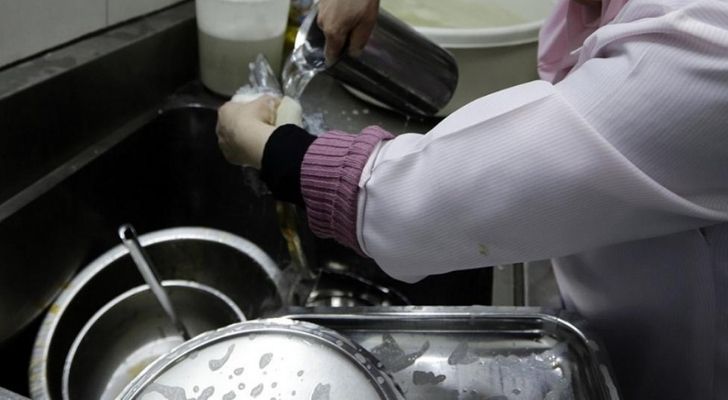 Washing dishes is often seen as a chore. However, a group in Algeria disagrees. On June 16, 2017, 412 people came together in the capital of Algeria and broke the record for washing dishes at the same time. The record was dedicated to Henkel (Algeria) and Pril-Isis.
20. If you can catch a grape falling from a height of 108 meters with your mouth, you can also become a world record holder!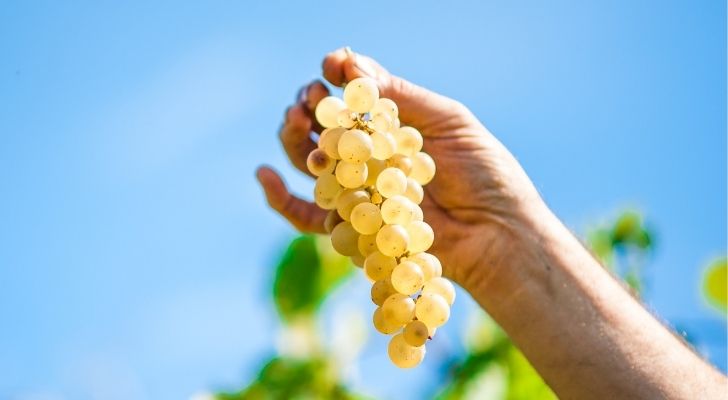 On September 7, 2009, Paul E. Lyday managed to catch a grape with his mouth at a distance of 108 meters. The record was achieved within the borders of the USA.
21. Freddy Nock managed to walk on the world's highest cable car wires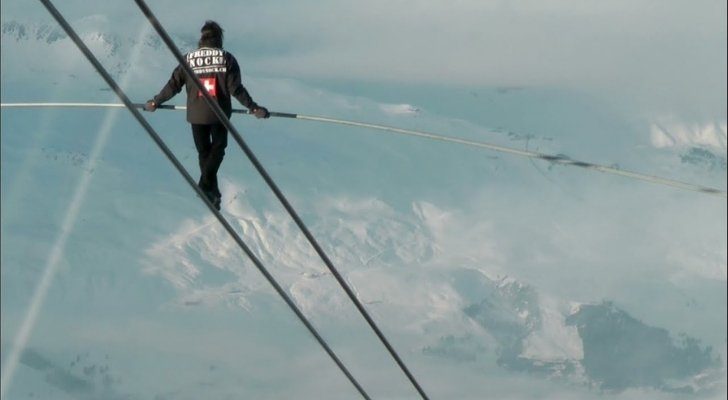 We round off our list of world records with Freddy Nock. Nock holds the Guinness World Record for his daring skills. On January 29, 2011, Nock was born in St. He walked about 572 meters on the cable car wire in the Silvaplana ski resort in the city of Moritz. The cable car was located at an altitude of 3,303 meters above sea level. Our record holder initially set out to break the record for the longest cable car walk, but had to stop due to terrible weather conditions. So he just managed to break the height record. Moreover, the weather was so bad that the thermometer showed -15 °C.
You may be interested in:
18 Fun Scenes From Frida Kahlo With Thousands Gathering To Break World Records